Services from RMGirl
On this page, you can find the services which RMGirl Consulting can help you with. If it isn't listed here, please do get in touch to discuss any opportunities.
Please note I am not looking for any full-time roles. RMGirl undertakes projects with multiple clients at once.
Training
Subscription Line, Shop with templates, advice, guides & webinars. COMING SOON.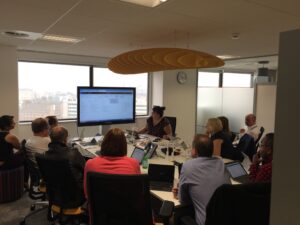 Experience
With 15 years in the business, RMGirl Consulting is the business for you if you want 'proper' records management done, you need RMGirl Consulting in your organisation. Practical and Realistic training, advice & consultancy with the ability to help from a distance as well as being face to face. Emily is able to write contributions for magazines, books and online print.  Emily leads up the Information and Records Management Society London Group as an extracurricular and continuous professional development. See the link above to learn more about what events are happening next.
Coming Soon
The ever expanding RMGirl Portfolio has new items coming soon. This includes a subscription line, a shop with templates, advice and guidance. It also includes webinars and collaborations with other freelancers.  These new items expect to be launched on the 1st of September 2020.  Training is expected to be launched in 2021 with updated and new content.  Stay tuned for more information.
Pandemic
Has the pandemic found you wanting or needing to sort your records management out? If so, RM Girl consulting can help you get on track and digitalise your organisation with a practical approach. You will find that digitising records is not cheap, and you don't want to scan something that is worthless and will never be used. So get in contact with RMGirl today to see what services can help you out.
You can contact Emily on emily@rmgirl.co.uk