Services from RMGirl
RMGirl Consulting offers a range of services. We help you to understand records management and assist you as you work towards compliance.
Please note that  I am not looking for any full-time roles – RMGirl undertakes projects with multiple clients at once.
Training
Guides
COMING SOON: Subscription line and template shop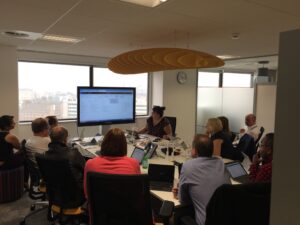 Experience
With over 15 years in the business, RMGirl Consulting knows all about 'proper' records management! We offer practical and realistic training, advice and consultancy both virtually and face-to-face. Emily is a frequent contributor to magazines, books and online print.  She heads up the Information and Records Management Society London Group and is a huge believer in continuous professional development.
Coming Soon
Our series of webinars kick off in March 2021.  We will also be launching a subscription line and templates to complement our popular Freelancers Guide to Data Protection.  Stay tuned for more information!
Pandemic
Has the pandemic found you wanting or needing to sort your records management out? If so, RM Girl consulting can help you to get on track and digitise your organisation.  Emily combines experience with a practical approach, ensuring that you are only scanning the records that you need to. Get in contact with RMGirl today to see how she can help you out.
You can contact Emily at emily@rmgirl.co.uk