Book Review: Confident Cyber Security by Jessica Barker
Book title: Conf!dent Cyber Security |Author: Dr Jessica Barker | Published date: September 2020 |Pages: 239pp | Style available: Paperback, Hardback & Ebook ISBN: 978-1789663426 (Paperback) | Price: £14.99  | Publisher: Kogan Page
The latest addition to the Confident book series from Kogan Pages is Confident Cyber Security by the wonderful Dr Jessica Barker
Author Background
Dr Jessica Barker (Jess) is an award-winning global leader in the human side of cybersecurity. Jess is the Co-Founder and Co-CEO of Cygenta, where she follows her passion for positively influencing cybersecurity awareness, behaviour and culture in organisations around the world. She has delivered face-to-face global cybersecurity awareness sessions. Jess is one of the go-to cybersecurity experts for media outlets and you may have seen her on TV, Radio and online.
I've known Jess for nearly a decade but I forget about her prominence!  She's such a nice person and very easy to speak to, and that comes across clearly in her book.  You can read more about Jess on her LinkedIn profile.
I was over the moon to discover her personal message inside the book for me: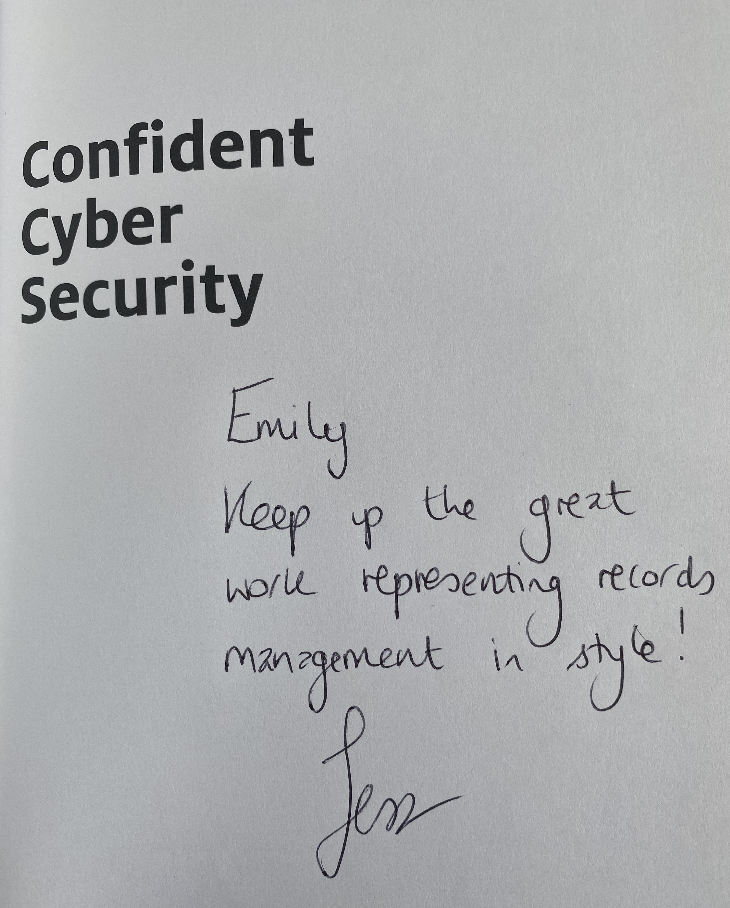 Book Background
The world is more digitally connected than ever before, and with this connectivity, comes vulnerability. It is therefore vital that all professionals understand cyber risk and how to minimise it. This means that cyber security skills are in huge demand, and there are vast career opportunities to be taken.

Confident Cyber Security is here to help. This jargon-busting guide will give you a clear overview of the world of cyber security. Exploring everything from the human side to the technical and physical implications. This book takes you through the fundamentals: how to keep secrets safe, how to stop people being manipulated, and how to protect people, businesses and countries from those who wish to do harm.

The book features real-world case studies from Disney, the NHS, Taylor Swift and Frank Abagnale, as well as social media influencers and the entertainment and other industries. This book is packed with clear explanations, sound advice and practical exercises to help you understand and apply the principles of cyber security. Let Confident Cyber Security give you that cutting-edge career boost you seek.
Getting Started
Starting a new career can be pretty daunting but I genuinely think this book will give you the confidence to get started.  The book well and truly lives up to its name.
Having over 50 case studies is really what sets this book apart from the rest.  You rarely have so much packed into such a small book but this is full of information. It's hard to believe it's so cheap at only £14.99!  A lot of books would cost easily triple the price for the content that Jess has provided. What's more, you can get started with some additional exercises that have been included.
Confident in futureproofing your career
Jess has given so many handy tips, but the section I liked the most is where she talks about the variety of ways you get started and improve your skills.  She talks about the likes of Defcon, Bsides, Capture the Flag, Bug Bounties and more. I agree with her that creating a network of people you can go to is important when carving out a career.  My particular favourite has to be Bsides Liverpool. If I ever get a chance to go, I'll be there with bells on.
The advice, the facts, the content, the flow and the ease of reading really helps when you're not completely comfortable with a subject.  I specialise in Records Management (RM) but I'm interested in information security because it's about securing the information that I'm trying to manage. I took part in t webinar for University of Manchester on Reduce the surface attack with Prof. Danny Dresner and we spoke about RM and Cyber Security crossing paths.
It's not something to be marked down on but, although this book is called 'cyber', it covers more than that. It covers the physical, technical and human side of security and you get more than you planned for. Is it enough to call it Confident Information Security? Possible not, but still, a lot of content for a small price.
Confident Book Series
This book is one of the latest publications from the Confident series.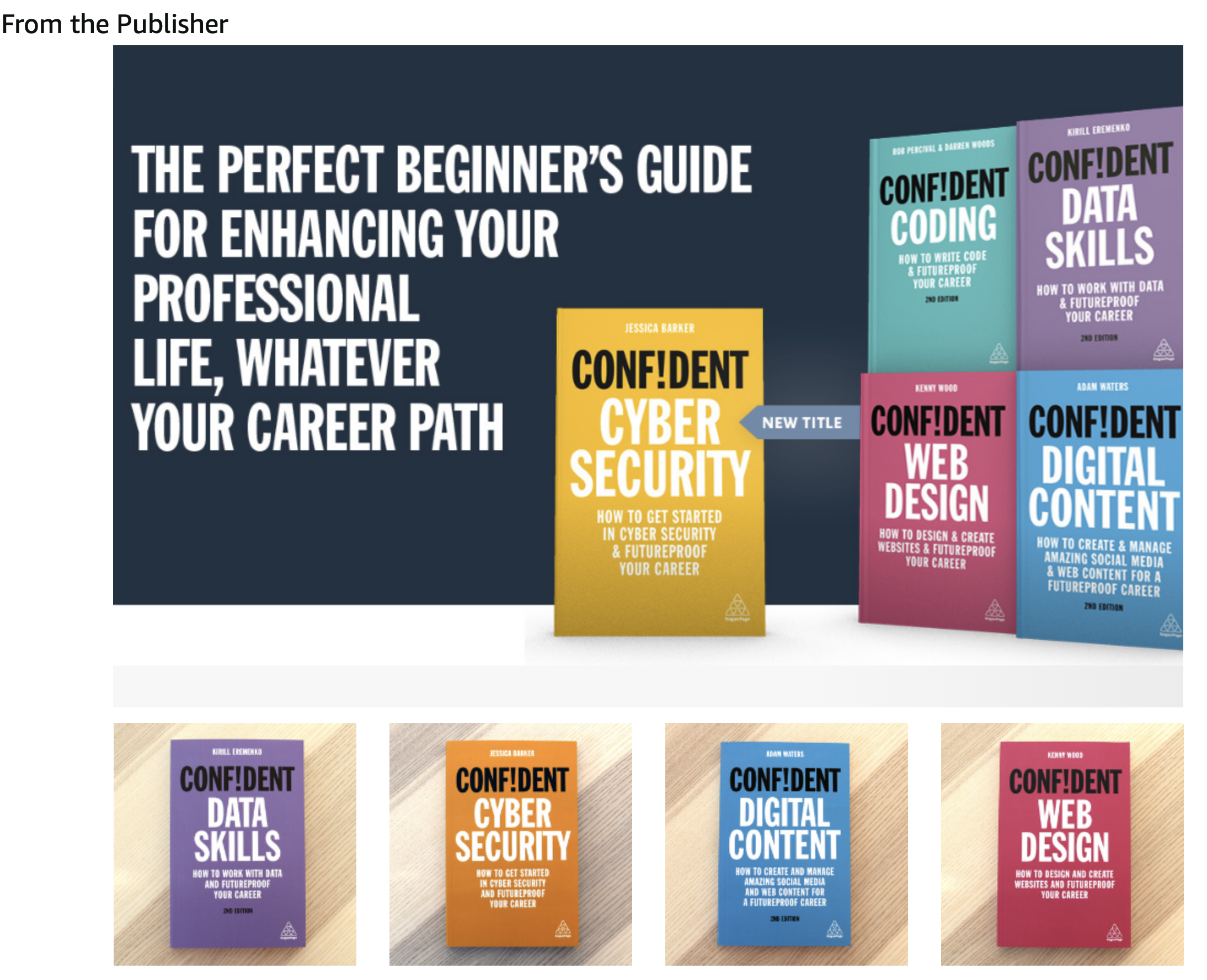 In this Confident series, in addition to the reviewed book, publications include:
Data Skills

Digital Content

Web Design

Coding
If these books are similar to  Confident Cyber Security then I can imagine they'll be awesome too.  I would recommend this book to both newbies and seasoned professionals. A mark of a professional is the ability to explain something simple with great care while not making the reader feel silly.  Jess has managed to do this in this book.
Discount for my readers
I'm delighted to be able to offer a discount for my blog readers.  You can get a 20% discount when you buy this book through Kogan Page's website and use the code CONFIDENT20. The code is valid until 31st July 2021.  Thank you to Jess for sending me this book for free and for Kogan Page for giving me a great discount for my readers. 
I give this book a 10 because I cannot imagine how Confident Cyber Security could be improved!  It does what it says on the tin, it's a fantastic price and it's easy to read.   Jess deserves a standing ovation for such a brilliant book!
---
If you like this blog post, please see other posts here.
If you enjoyed my content, I don't get paid for this work and so please consider buying me a virtual gin and tonic or two here.
Book Review: Confident Cyber Security by Dr Jessica Barker